Hey guys how's it going? This weekly check-in is a two-weeker because of time and technology.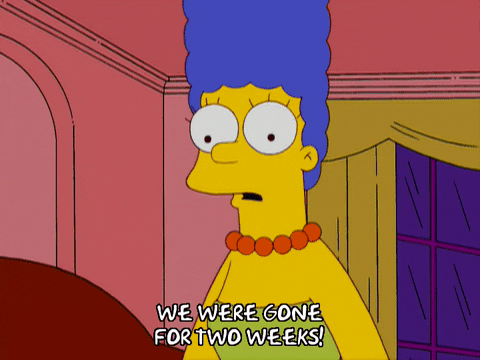 I watched one anime, listened to one podcast, I read three novels (although I DNFed one), and I read nine volumes of manga (😲) also some of the media I have read are out now but I read them from Netgalley and some aren't (those are noted individually so check it out). Onto the Media!
Anime
Fruits Basket 2019
The last few months once a week or every two weeks, I was buddywatching season two of this anime with a friend of mine and this week I finally finished it.
This reboot definitely has gotten me more invested in this series for sure. The emotions evoked in this series are ones I never expected to have let alone get invested in other supporting couples/characters. I am also curious to see what season 3 will do. I have some idea but im excited nonetheless. I'll probably continue the manga series after watching it all to see the story in that medium as well. 4.5 out of 5 stars or 5 sushi 🍣 🍣 🍣🍣🍣.
Podcast
Smart Women Read Romance
These last two weeks I listened to several episodes of this podcast. I enjoy it because they are essentially romance fangirls that can dissect my favorite romance novels and tell me about other series that I may enjoy also especially book boyfriends. My only issue was that I wish there was more recommendation/ general romance podcast episodes but that's just me. Because of these points, I have to give this a 4-4.5 out of 5 stars or 5 sushi 🍣 🍣🍣🍣🍣.
Novel
Siri Who Am I?
Amnesia plot-lines are hit or miss for me. On one hand, if there's no suspense or nothing changed with the person, it kinda stinks. On the other hand, when things are too tidy and not exciting enough, it's boring. This book has a lot of good and a lot of bad (there are some moments of elitism, racist comments etc.) Also the footnotes although funny at times, very unnecessary. However, it is entertaining enough to be able to be inhaled in one day (yes I did that), plus it gives a lesson about how social media can be helpful but also not at the same time.
Overall, I thought this was an interesting concept and entertaining but not my favorite thing of all time. Because of these points, I have to give this a 3 out of 5 stars or 3 sushi 🍣 🍣🍣. This came out this week so check it out!
Her Turn-DNFed at 73%
Netgalley gave me the opportunity to read and review this book. While I appreciated it, it was awkward more often than not. The writing style felt way too meta for me in the sense that both characters kept commenting to the reader do not judge me yes my hooha talks (yes that's a thing that kept going too long………………………………………………………) I think I was just the wrong audience for this novel or it just was too too for me in the sense of drama, verbal abuse, etc. I just couldn't take it anymore. Because of these points, its not going to be rated everywhere else but here its going to be a 2 out of 5 stars or 2 sushi 🍣🍣.
What I Didn't Say
For me this most reminds me of a teen version of Archers Voice by Mia Sheridan but with different circumstances and the opposite pov.
Trigger warnings for drunk driving/car accident, physical and verbal abuse, death of a parent, and child abandonment.
I was pleasantly surprised that I enjoyed this as much as I did. I think though my only issue was I wanted a dual perspective with some more of the girl's to understand her character more. Because of these points, I have to give this novel a 4 out of 5 stars or 4 sushi 🍣🍣🍣🍣.
Manga
Series Continuations
Sweat and Soap
I know the last few Weekly Check-ins have had this series in here somewhere and you know why? (Other than it is good of course). It is one of those series that I read when I want to have a pure semi realistic relationship with real situations along with having some adorable moments. I am sad that I do not have more to read but I know if I want to, it is re-readable and great if I need a pick-me-up. Overall, the only issue I have with this particular volume was that I wanted even more than what I got (like I have said this can make so much money as an omnibus set). Plus it would have been awesome if we met both families in this volume. Because of these points, I have to give this a 4.5 out of 5 stars or 5 sushi 🍣🍣🍣🍣🍣.
Practice makes Perfect
This week with some of my manga reads I decided to use a number generator to pick off my kindle manga to be read and this came up. I think the universe knew that I needed to read this volume that day because it is relatable to adults who just want everything to be perfect including their love lives.
I love these characters in the sense that they just want to make their significant other happy as well as try to understand how sex works and what they can do to make it the best.
I also appreciated that there was quite a bit of sexiness in this as well. I do appreciate the pureness of this series too but I was ready for the equality of sexiness and pureness (if that makes sense).
Overall, if you love pure sexy time relationships that have characters overcoming adult situations with sports involved. Because of these points, I have to give this volume a 4.5 out of 5 stars or 5 sushi 🍣🍣🍣🍣🍣.
K-On College
This is a follow up to the original K-On series and it felt so much like the anime but with different characters sprinkled in. I think I would have wanted more than one volume about this story though and if they added this as additional content for the anime, I think it would make it even better.
My only issue with this personally was that the ending felt unfinished and that there was a lot more choppy episodic chapters than I anticipated. Because of these points, I have to give this manga a 3.5 out of 5 stars or 3 sushi 🍣🍣🍣.
Series Starters
Alter Ego
I think this one was a refreshing story for me because it has more depth and drama than previous ones. The artstyle is also very unique and I love it very much.
It also is more adult and discusses more about friendships than relationships which was interesting.
There's also an uncertainty of age of the characters (which isn't a bad thing, however it could be for someone else). Trigger warnings for verbal and physical abuse.
Overall though, I enjoyed my read of this manga and I am curious to see what this manga series is going to do next. Because of these points, I have to give this manga a solid 4 out of 5 stars or 4 sushi 🍣 🍣 🍣🍣. This comes out on February 23rd so check it out if you're interested.
Cherry Magic!
This was a manga that I have heard mixed things about, However, I enjoyed myself while reading this manga. This is a mature manga so I recommend it for people who are 18+ because of some graphic scenes, however it is a slowburn as far as the relationship. It does have some magical realism but it doesn't ruin the enjoyment of the story.
My only issue I had with this and it may be more of a nitpick than anything else, was that there was a lot of perspectives in the story more than I expected. This also occurs in this strange order in the story as well sort of like afterthoughts in my opinion. Overall, I enjoyed myself while reading this volume and if its on sale, I'll definitely continue this series. 4 out of 5 stars or 4 sushi 🍣 🍣 🍣🍣.
Lovesick Ellie
This manga is one I wasn't sure how I was going to feel about it. But I was pleasantly surprised.
This manga has the meek girl and the popular guy getting together trope which can be a hit or miss for me personally but this was a hit.
My only issues I had were that there was quite a bit repetitiveness and occurred and miscommunication. Overall, I enjoyed myself and am curious what the rest of the series brings. 3.5 out of 5 stars or 3 sushi. 🍣🍣🍣.
Boarding School Juliet
This manga was very unexpected for me. If you love the Romeo + Juliet movie but with a boarding school setting with a slice of life aspect, I am sure you will probably enjoy this. This had so many different characters that can take the series in so many different directions, although I hope I don't get anyone confused for other people(which almost happened a couple of times so I am hoping it gets better). This has some mature moments so I recommend this for the 16+ age bracket not younger.
I also wonder how the plot is going to go but its not overwhelming in the sense that I do not want to continue on (I really do). Because of these points, I have to give this a 3.5 out of 5 stars or 4 sushi 🍣 🍣🍣🍣.
The Dorm of Love and Secrets
This was a cute start of a series taking place in a high school dorm with two different classes of people; the gifted students (academics abound etc.) and the non gifted (the regular/ones who do not necessarily care about it). So this was cute, however I did have a couple of gripes.
First off, the leading female character is considered the dumbest of the dumb -.-. I truly hate that trope in anime/manga but at least in most things they try to solve it by people tutoring them. That didn't happen here. At least not as of this volume. So I am hoping that in future volumes the leading guy helps the girl in that aspect.
My other gripe that I have is that it seems like the guys in this manga were more conniving and rude than I expected. I am hoping there's more redemption but of course I will have to read more from the series to know for sure. Because of these points, I have to give this manga volume a 3 out of 5 stars or 3 sushi 🍣 🍣🍣.
Series Finale
Story of Saiunkoku
This series is one I still love after reading this volume although now after reading this volume, you do not necessarily have to read it if you don't want to. Volume 8 basically ends the series and this volume volume 9 gives more backstory and side stories that if you're a really huge fan would be fun for you to read. As a person who watched the anime first (and loved it) the manga was wonderful up to this volume, and the ending just felt unfulfilling in my opinion. After conducting some research, I found out that this manga had to end like this because there wasn't enough popularity in Japan which I understand. There's light novels that have gotten translated to English that also has a different ending (which is verrrrry heartbreaking). Anyway, overall, I am glad I was able to read this series and to have this be my first manga series was great 👍 3.5 out of 5 stars or 3 sushi 🍣🍣🍣. If you love political fantasy manga with some antics and girl power check this series out!
The Week Ahead
I will be honest, I am almost to my reading challenge for the year. (I put it low because of reasons) so I think I am going to take a step back (at least not pressure myself). But there are still some I need to read for review as soon as I can. Because of stepping back from reading, I would love to watch some more anime, movies, and television. What about you guys? What did you read/watch these past two weeks? Let's talk about it!